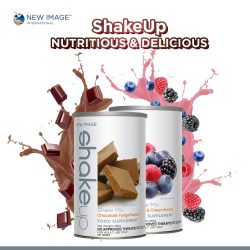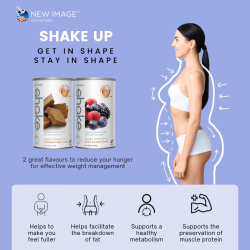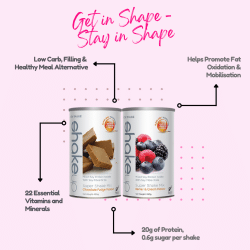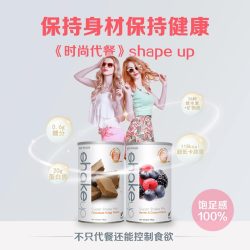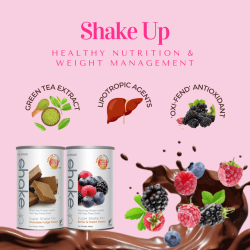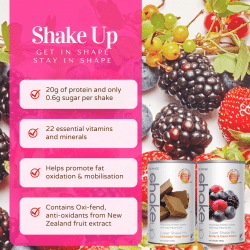 ShakeUp Low Carb Supplemented Food Shake 490g
PAIR THIS OFFERING WITH A DNA TEST (Recommended by this vendor)

PAIR THIS OFFERING WITH A DNA TEST (Recommended by this vendor)

PAIR THIS OFFERING WITH A DNA TEST
(Recommended by this vendor)

PROMOTION COUPONS BY THIS VENDOR

| | |
| --- | --- |
| Choose Flavour | Berries & Cream, Chocolate Fudge |
No more offers for this product!
Shipping Policy
Customers will be responsible for paying for your own shipping costs for returning your item. Shipping costs are non­refundable.
If you receive a refund, the cost of return shipping will be deducted from your refund.
Refund Policy
ConnectingDNA offers a 30-day 'money-back guarantee' for all purchases made from our marketplace. Please refer to the conditions for refund below. Details of the money-back guarantee is as below: 
Products sold - you can get a full refund if the vendor have not delivered the within 30-days. In the case where you cancel your order while the product is on its way, you may still get a refund if return the purchased product back to the vendor in its original state within 1 month of your initial purchase date. 
Services sold – you can get a refund if you are unhappy with the service rendered by the vendor within 30-days of your initial purchase date. Please take note that if the date of the service rendered is after 30-days from your date of purchase, it will not be covered by our money-back guarantee. 
Do note that if you purchase additional offerings (products/services) from the vendor outside of our marketplace (ie. it does not generate a new purchase order), those offerings are not protected by our money-back guarantee.
Cancellation / Return / Exchange Policy
You have 30-days to return a product purchased from the marketplace from the date you received it. To be eligible for a return, your item must be unused and in the same condition that you received it.
Your product must be in the original packaging and needs to have the receipt or proof of purchase.
General Inquiries
There are no inquiries yet.
Do you want a healthy, satisfying meal alternative that provides energy, fuel and helps keep you on track towards healthy nutrition and weight management?
SHAKE UP SUPER SHAKE HELPS YOU GET IN SHAPE – STAY IN SHAPE
New Image™ ShakeUp is a high protein, low-carb and low-calorie supplemented food, with 20g of protein and only 0.6g of sugar per shake. It provides a healthy and convenient alternative to a typical carbohydrate-dense meal. You can easily adapt it into your low-calorie or low-carb weight loss programme as well as long-term weight maintenance to support you in reaching your protein goals.
Say No to Yo-Yo Dieting!
See and Feel an Amazing Difference in You
There are many reasons why you regain weight. If you have no medical conditions, or hormonal imbalances, and are not under stress, it might be that you haven't developed sustainable eating habits after restrictive dieting. If any of these sounds familiar, it may be time to rethink your weight maintenance plan.
Among the three macronutrients — fats, carbs, and protein, protein is by far the most important. Not only does it help you feel fuller it provides your body both essential and non-essential amino acids, the building blocks for all proteins in your body. A high-protein diet helps maintain lean muscle mass, boosts metabolism and leads to an automatic reduction in calorie intake and cravings. Many people who increase their protein intake tend to lose weight almost instantly.
Of course, losing weight is just the beginning. For many, maintaining weight loss is a much greater challenge. A nutrition intervention study shows that increasing your protein by 20%, reduced weight regains by 50%. So, if you want to keep excess weight off for longer, consider increasing your protein. Aim for 0.8 grams of protein per kilogram per day. For example, if you weigh 75 kg, you should consume an average of 60 grams of protein per day. Maintaining your protein level need not be difficult.
A palm size of lean meat or chicken or fish per meal can help you reach your goal. If cooking is not your favorite pastime or you're looking for more convenience, try New Image Shape Up. It offers a substantial amount of protein, providing an excellent meal alternative that makes your weight maintenance hassle-free and enjoyable.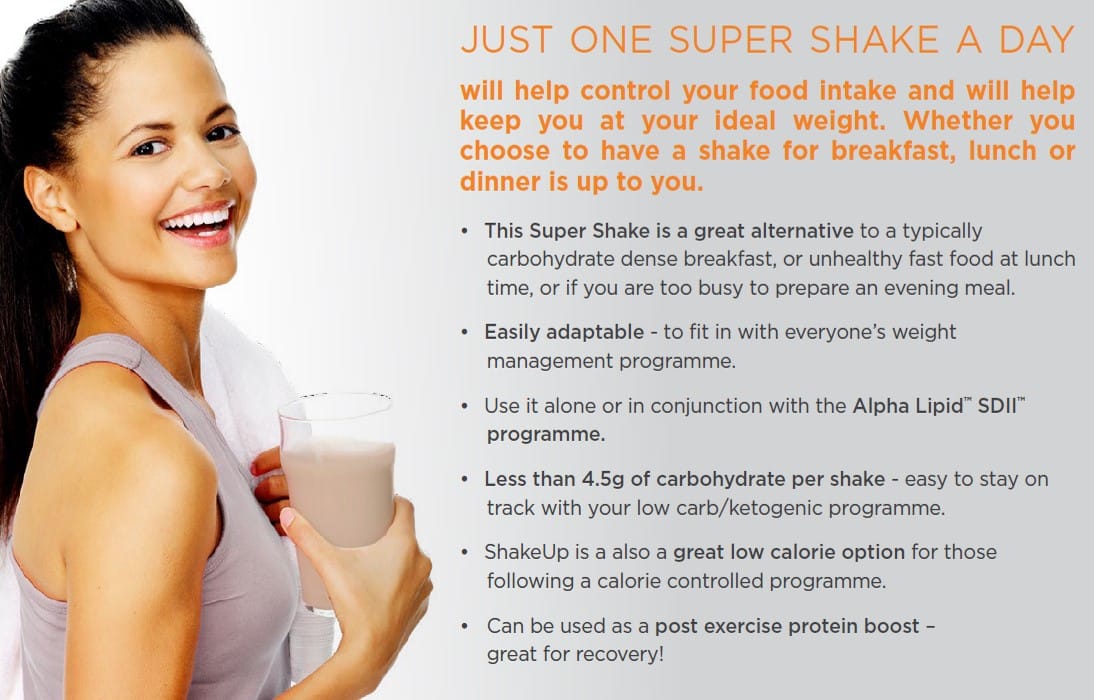 Primary Benefits
• Helps to make you feel fuller.
• Helps maintain a stable blood-sugar level.
• Supports the preservation of muscle protein.
• Helps facilitate the breakdown of fat.
• Supports a healthy metabolism.
• Helps fight damaging oxidation.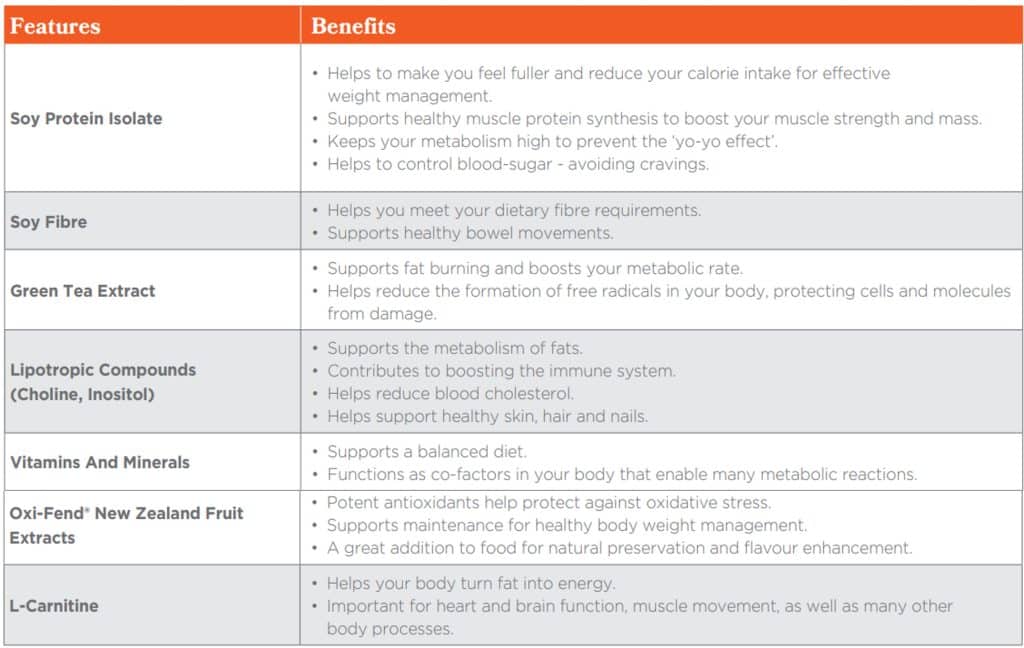 Ingredients:
20g Soy Protein Isolate, Vitamins: Vitamin C, Vitamin E, Niacin, Vitamin A, Pantothenic Acid, Vitamin B12, Vitamin D3, Riboflavin, Pyridoxine, Thiamine, Folic Acid, Biotin, Minerals: Calcium, Phosphorus, Magnesium, Iron, Zinc, Manganese, Copper, Potassium, Iodine, Sodium, Selenium Green Tea
Directions:
Serving instructions:
35g (2 levelled scoops).
Mix with 250ml of water or milk – shake well to combine.
1-2 shakes daily.
all opinions are from people using this vendor
all opinions are from people using this vendor
Other Popular Offerings You May Like