LifeWave Y-Age Glutathione Patches Patches (30 Patches) – Supports Your Immune System & Detoxification Process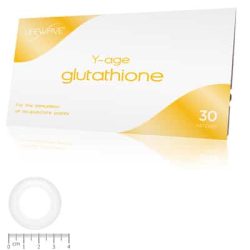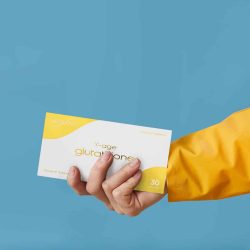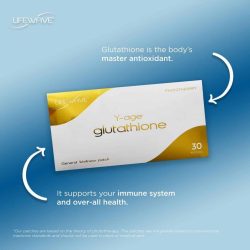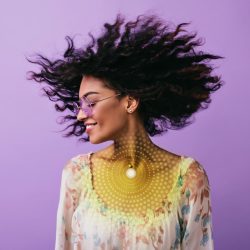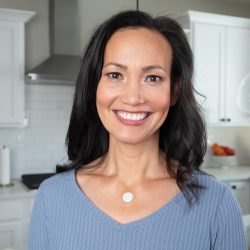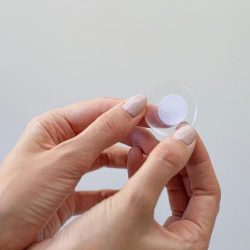 LifeWave Y-Age Glutathione Patches Patches (30 Patches) – Supports Your Immune System & Detoxification Process
PAIR THIS OFFERING WITH A DNA TEST (Recommended by this vendor)
Supercharge with a DNA test
(Recommended by this vendor)
PROMOTION COUPONS BY THIS VENDOR
A Strong Immune System Is Your Greatest Defense

Glutathione is the body's master antioxidant and primary antioxidant for detoxification. It's found in nearly every human cell, and medical experts say that lifespan is directly equivalent to the amount of Glutathione in your body. With its ability to protect and detoxify, it also provides crucial immune system support. It's also worth noting that glutathione is incredibly well researched. In fact, thousands of clinical studies have been conducted on this powerful antioxidant.
As the primary defense against invaders from outside and inside the body, the importance of the immune system cannot be overstated. The good news is this patch is clinically proven to keep you strong. No other single product can support your immune system like Y-Age Glutathione, and this patch does it all with no drugs or chemicals.
Did You Know?
Our atmosphere contains trillions of germs. They are in the air we breathe, the water we drink and the food we eat. But what makes one person more vulnerable to germs than others? The strength of your immune system, alone, prevents any disease-causing bacteria or agent from damaging your body. The immune system plays a crucial role in maintaining good health and Y-Age Glutathione can help.
Introducing the LifeWave Y-Age Glutathione Patch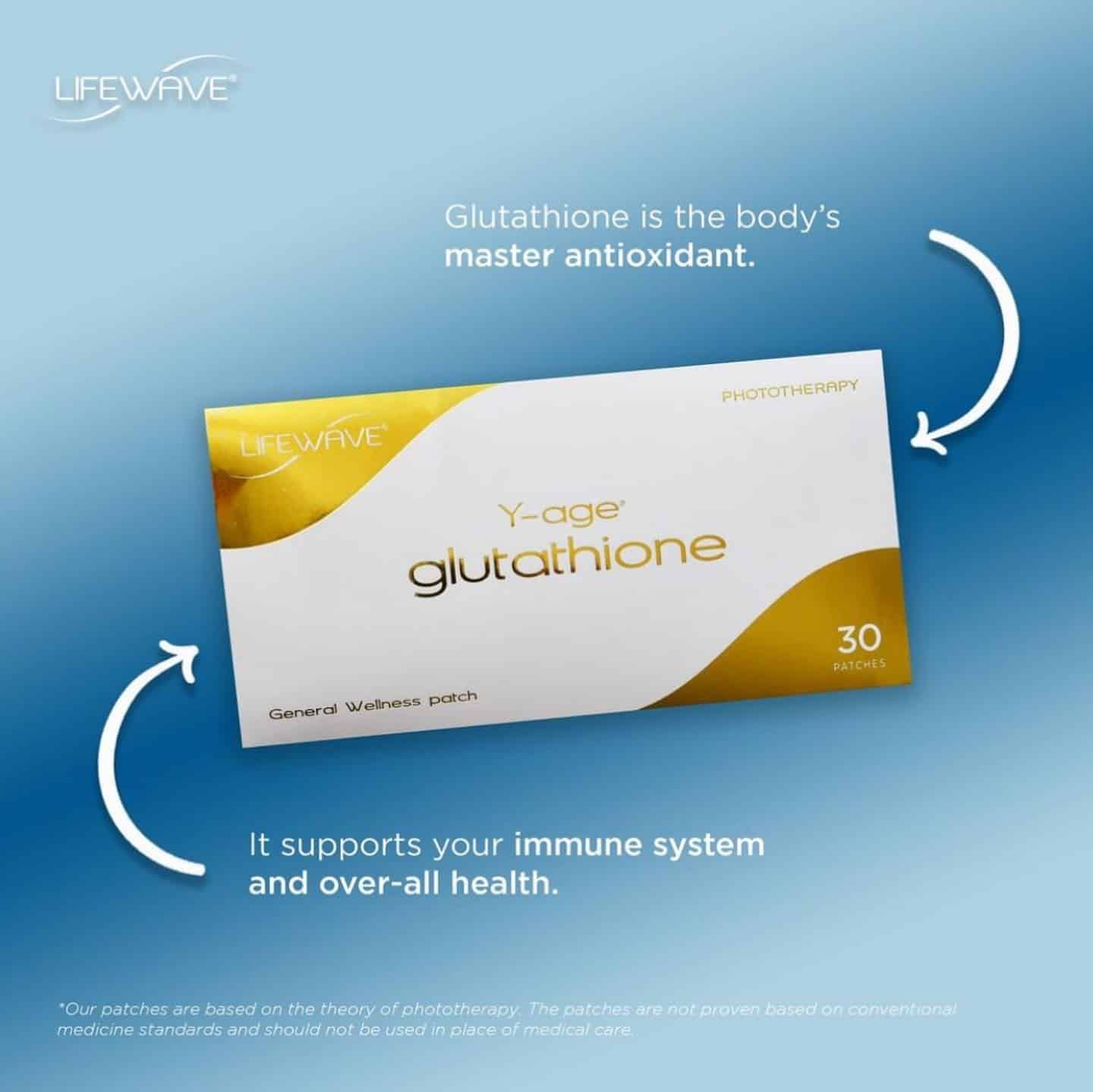 Glutathione is the body's master antioxidant and helps to detoxify the body and neutralize free radicals, while supporting the immune system.
• Glutathione is the body's master antioxidant
• Supports the immune system
• Improves overall health
• Patented, proprietary form of phototherapy
• No drugs, chemicals or stimulants
How Does the Patch Works?
Your body emits heat in the form of infrared light. LifeWave patches are designed to trap this infrared light when placed on the body, which causes them to reflect particular wavelengths of light. This process stimulates specific points on the skin that signal the body to produce health benefits unique to each LifeWave patch.
Each LifeWave patch also uses the principles of acupressure to gently stimulate points on the body that restore balance and improve energy flow, providing a specific health benefit.
What Makes One LifeWave Patch Different than Another?
Each patch is exclusively designed to reflect particular wavelengths of light that stimulate specific points on the skin. This enables each patch to provide unique health benefits. No drugs or chemicals enter your body.
Y-Age Glutathione Study Results
2010 Study
This study indicates that LifeWave Glutathione patches significantly increase blood glutathione levels. Test results also support that Y-Age Glutathione creates physiological changes in the body, which create an antioxidant effect as measured by an increase in glutathione levels.
There are other Glutathione supplements on the market, but clinical research shows that common Glutathione pills, powders and drinks can only elevate blood Glutathione levels by little more than 10% in 30 days.
Because LifeWave technology is capable of triggering metabolic changes within the cells, our Glutathione Booster has been clinically shown to elevate your blood Glutathione levels by over a whopping 300% in just 24 hours!
How soon can I expect to see results with Y-Age Glutathione?
Although individual results may vary, many people note an immediate detoxification reaction and initial improvements in energy levels within days of patch use. We recommend 90 days of Y-Age patch use for more significant anti-aging benefits.
Can the Glutathione patch improve my skin?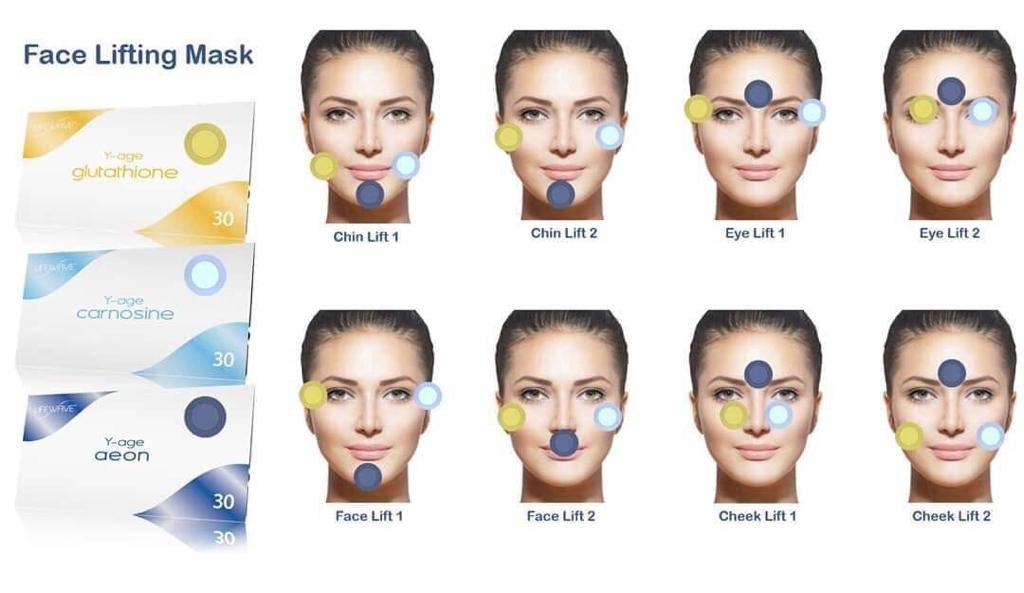 Yes! When combined with both Y-Age Aeon and Y-Age Carnosine, you can expect to see improvement in skin color, texture and depth of wrinkles around the eyes and mouth in as little as two weeks.
Benefits can be immediate!
Unlike most products, LifeWave Patches goes to work the minute you apply it.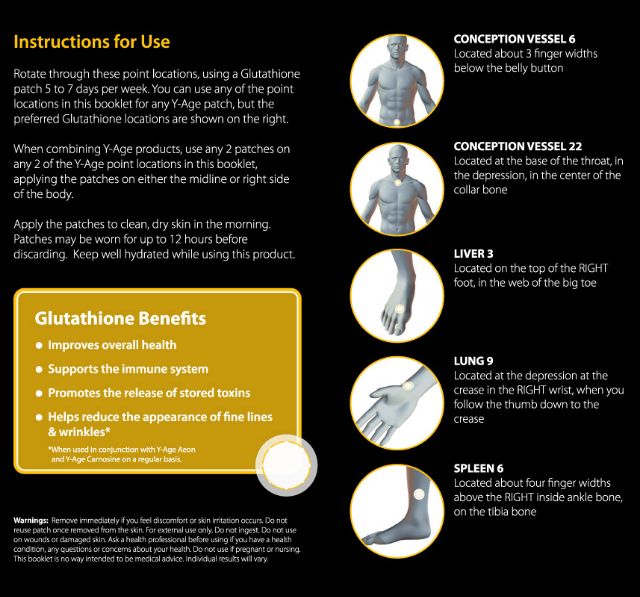 How to Use?
Each sleeve contains 30 patches.
Patches may be worn for up to 12 hours before discarding.
Keep well hydrated while using this product.
Simply place the patch at the base of your neck (like pictured) and feel the effects of your body detoxifying itself of heavy metals.
What will I feel when wearing the Y-Age Glutathione patch?
Since glutathione is an antioxidant, you may feel an improvement in your levels of energy and general well-being. Because glutathione helps to remove toxins from the body, you may experience detoxification symptoms such as a sore throat, headache, fatigue or nausea. If this occurs, simply remove the patch and drink extra water.
all opinions are from people using this vendor
all opinions are from people using this vendor
Other Popular Offerings You May Like