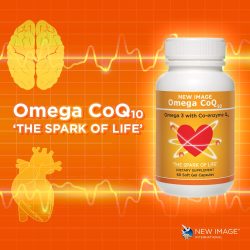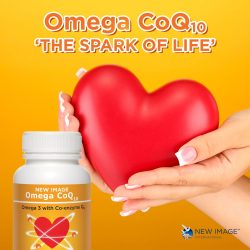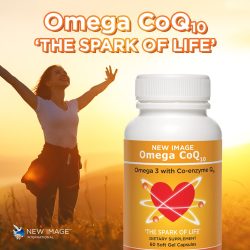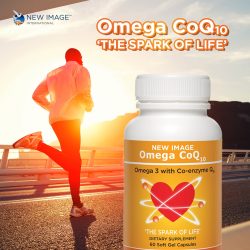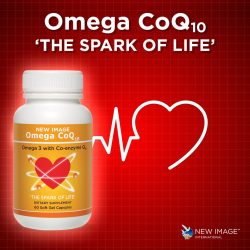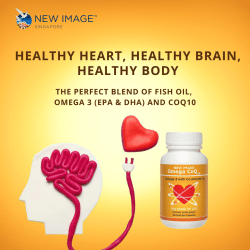 Omega CoQ10 (Omega 3 with CoQ10 Softgel) – 60 Capsules
PAIR THIS OFFERING WITH A DNA TEST (Recommended by this vendor)
Supercharge with a DNA test
(Recommended by this vendor)
PROMOTION COUPONS BY THIS VENDOR
Boost your energy with Omega CoQ10 – `The spark of life'
New Image™ Omega CoQ10, 'The Spark of Life' provides a daily essential top up of CoQ10. Each capsule contains 30mg of CoQ10 and 1000mg of natural fish oil, which contributes 300mg omega 3 fatty acids. Fish oil has many proven health benefits such as reducing inflammation and regulating the blood lipid profile. This healthy oil also ensures the optimal absorption of CoQ10. Frequent supplementation of CoQ10 is proven to be safe and should be part of your long-term health plan.
Co-enzyme Q10 (CoQ10)
CoQ10 is best known for energy production. It is also a potent antioxidant, particularly good at preventing lipid peroxidation, the process by which free radicals damage our lipid cell membranes leading to premature aging of the cells.
This powerful little molecule is a central component that helps your body convert food into energy at the cellular level in the mitochondria. Imagine your mitochondria as the powerhouse of the cell, without CoQ10, this powerhouse will lose its power and the cell will stop functioning.
Do You Know?
Our ability to produce CoQ10 peaks in our 20's and declines as we age. With insufficient CoQ10, you limit the body's defenses to counteract the damage caused by free radicals, which in turn could lead to a faster progression of degenerative diseases. As the energy level decreases, you will also experience physical fatigue, muscle weakness, mental fatigue and memory lapses.
The amount of CoQ10 found in food is barely enough to meet your body's increasing need, therefore, CoQ10 supplementation is essential! If you are taking the drug Statins for high cholesterol, CoQ10 should be on top of your supplement list as the drug blocks the natural CoQ10 synthesis in your body.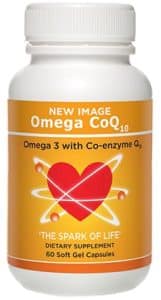 Promotes heart health, increases energy levels, supports the immune system and stabilises blood pressure.
Contains 300mg of Omega fatty acids which help to regulate inflammation thereby supporting joint comfort and mobility.
CoQ10 is a potent antioxidant helping to prevent the free radical damage causing premature aging of cells.
Supports cardiovascular health and well being.
Has the potential to increase fitness stamina and faster muscle recovery.
Heart: Omega 3 fatty acids and CoQ10 are both well-known nutrients for cardiovascular health – supporting healthy blood flow, cholesterol, blood pressure and even protecting the heart itself.
Brain: Found in high concentrations in your brain, fatty acids support normal cognitive function and healthy mood.
Health: Nutrients to support energy, vitality and healthy ageing.
Ingredients:
1000mg Fish Oil, 300mg Omega 3: 180mg Eicosapentaenoic Acid (EPA), 120mg Docosahexaenoic Acid (DHA), 30mg CoQ10 (Ubidecaranone)
Directions:
For best results, take 1-2 capsules a day with food.
all opinions are from people using this vendor
all opinions are from people using this vendor
Other Popular Offerings You May Like