DNA Test Kit: Game Changer (Disease risks, drug responses, skin, life, health, sports, diet, potential traits)
PAIR THIS OFFERING WITH A DNA TEST (Recommended by this vendor)
Supercharge with a DNA test
(Recommended by this vendor)
PROMOTION COUPONS BY THIS VENDOR




Everything you need to know about you, from your disease risks to potentials, empowering your total transformation.
Find out 14 skin traits from 3 categories, 110 personal traits from 19 categories, AND 243 diseases and drug responses traits from 26 categories.
What's included?
Get THREE personalised report (both English and Chinese) on
Skincare traits
Personal traits (life, health, sports, and diet advice)
Diseases and drug responses*
Cosmetic ingredients and product recommendation.
Complimentary one-to-one consultation (15-min)
SKIN TRAITS
Innate Skin Characteristics
Skin Type
Skin Sensitivity
Skin Hydration
Melanin Resistance
Anti-Acne
Anti-Freckles
Resistance to Environmental Harm
Sun Resistance
Photosensitivity Protection
Radiation Resistance
Skin Antioxidant Capability
Anti-aging and Anti-wrinkle Ability
Anti-Aging
Anti-wrinkle
Firmness of Eyelids
Anti-Photoaging
PERSONAL TRAITS
Nutrition Analysis: Macronutrients
Protein
Fats
Carbohydrates
Nutrition Analysis: Vitamins
Vitamin A
Vitamin D
Vitamin E
Vitamin K
Vitamin B2
Vitamin B6
Vitamin B12
Folic Acid
Vitamin C
Nutrition Analysis: Minerals
Calcium
Iron
Zinc
Potassium
Magnesium
Selenium
Iodine
Nutrition Analysis: Metabolism
Alcohol
Lactose
Caffein
Tea Polyphenols
DHA
Lycopene
Looks Management: Skin Traits
Risk of Skin Tanning
Risk of Skin Inflammation
Risk of Acne
Freckles Tendency
Skin Anti-Photoaging Ability
Skin Antioxidants Ability
Skin Anti-Wrinkle Ability
Skin Oil Control Ability
Skin Hydration Ability
Collagen Degradation Rate
Looks Management: Body Parameters
Hair Volume
Hair Curls
Risk of Hair Loss
Genetic Height
Risk of Myopia
Finger Length Ratio
Health Management: Health Parameters
C-Reactive Protein Level
Adiponectin Levels
APOE Type
Susceptibility to Oral Ulcers
Helicobacter Pylori Susceptibility
Health Management: Allergies
Ultraviolet Rays
Pet Fur
Pollen
Emulsion
Allergic Cough
Allergic Nasal Congestion and Runny Nose
Personality & Potential: Character Traits
Resistance to Violence
Empathy
Stress Resistance
Self-Discipline
Error Avoidance
Altruism
Interpersonal Affinity
Emotional Eating
Personality & Potential: Potential Traits
Focus
Learning Ability
Reading Ability
Creativity
Episodic Memory
Language Expression Skills
Music Discrimination Ability
Mathematic Potentials
Life Management: Sleep & Rest
Sleep Metabolism
Tendency to Stay Up Late
Deep Sleep Durations
Sleep Quality
Sleep Durations
Life Management: Sensory Perception
Photic Sneeze Reflex
Pain Sensitivity
Sensitivity to Chewing Sounds
Smell Recognition Ability
Sweetness Sensitivity
Bitter Sensitivity
Salt Sensitivity
DISEASES AND DRUG RESPONSES*
Disclaimer: This report is provided and solely distributed by our affiliate, DAMEI Genetic Technology (Guangzhou) Co, Ltd, available in both English and Mandarin. This report does not constitute a medical diagnosis by any means. It is solely for personal guidance and reference only, for you to discover yourself better and to get advice for skincare and lifestyle. For radical and major changes, please consult a medical professional.
Common Diseases: Cancer/Tumour
Lung Cancer
Gastric Cancer
Oesophageal Cancer
Colorectal Cancer
Liver Cancer
Thyroid Cancer
Nasopharyngeal Carcinoma
Pancreatic Cancer
Bladder Cancer
Kidney Cancer
Oral Cancer
Laryngeal Cancer
Gallbladder Cancer
Skin Cancer
Basal Cell Carcinoma
Prostate Cancer
Testicular Cancer
Breast Cancer
Ovarian Cancer
Cervical Cancer
Endometrial Cancer
Chronic Lymphocytic Leukaemia
Acute Lymphocytic Leukaemia
Bone Tumour
Melanoma
Glioma
Hodgkin Lymphoma
Non-Hodgkin Lymphoma
Follicular Lymphoma
Multiple Myeloma
Myeloproliferative Neoplasms
Wilms' Tumour (Nephroblastoma)
Meningioma
Common Diseases: Circulatory System Diseases
Hypertension
Hyperlipidemia
Coronary Heart Disease
Stroke
Myocardial Infarction
Atrial Fibrillation
Sudden Cardiac Death
Venous Thromboembolism
Atherosclerosis
Peripheral Artery Disease
Abdominal Aortic Aneurysm
Cerebral Aneurysm
Common Diseases: Endocrine Diseases
Obesity
Type 1 Diabetes
Type 2 Diabetes
Hypothyroidism
Hashimoto's Thyroid
Common Diseases: Digestive Diseases
Gastritis
Ulcerative Colitis
Irritable Bowel Syndrome
Inflammatory Bowel Disease
Crohn's Disease
Celoidal
Gallstone
Duodenal Ulcer
Alcoholic Fatty Liver
Non-Alcoholic Fatty Liver Disease
Primary Biliary Cirrhosis
Common Diseases: Respiratory Diseases
Chronic Obstructive Pulmonary Disease
Asthma
Pulmonary Fibrosis
Tuberculosis
Common Diseases: Urologic Diseases
Kidney Stones
Chronic Kidney Disease
IgA Nephropathy
Common Diseases: Nervous System Diseases
Late-onset Alzheimer's Disease
Migraine
Epilepsy
Tourette's Syndrome
Parkinson's Disease
Amyotrophic lateral sclerosis
Progressive supranuclear palsy
Essential Tremor
Narcolepsy
Restless Legs Syndrome
Cluster Headache
Common Diseases: Psychological Disorders
Depression
Schizophrenia
Bipolar Disorder
Obsessive-Compulsive Disorder
Attention Deficit Hyperactivity Disorder
Anorexia nervosa
Autism
Common Diseases: Rheumatic Autoimmune Diseases
Gout
Ankylosing Spondylitis
Rheumatoid Arthritis
Multiple Sclerosis
Sjogren's Syndrome
Sarcoidosis
Selective Iga Deficiency
Systemic Lupus Erythematosus
Common Diseases: Orthopedic Diseases
Osteoarthritis
Osteoporosis
Scoliosis
Lumbar Disc Herniation
Paget's Disease
Common Diseases: Dermatology Diseases
Vitiligo
Psoriasis
Atopic Dermatitis (Hereditary)
Acne
Alopecia Areata
Atopic Dermatitis
Keloid
Common Diseases: Ophthalmic Diseases
Exfoliative Glaucoma
Age-related Macular Degeneration
Cataract
Common Diseases: Oral Diseases
Common Diseases: Otolaryngology Diseases
Otitis Media
Otosclerosis
Rhinitis
Common Diseases: Gynaecological Diseases
Uterine Fibroids
Endometriosis
Polycystic Ovary Syndrome
Pre-eclampsia
Gestational Diabetes
Hereditary Disease
Alpha-1 Antitrypsin Deficiency
Xeroderma Pigmentosum-Variant (Xp-V)
Phenylketonuria
Hereditary Fructose Intolerance
Beta Thalassemia
Hereditary Polycystic Kidney Disease
Familial Mediterranean Fever
Cystic Fibrosis
Gaucher Disease
Fanconi Anemia
Hemochromatosis
Full Color Blindness
Hepatolenticular Degeneration
Glycogen Storage Disease
Mucopolysaccharidosis Type I
Maple Syrup Urine Disease
Limb-Girdle Muscular Dystrophy
Gangliosidosis
Propionic Acidemia
Oculocutaneous Albinism
Ataxia Telangiectasia
Red-Green Colour Blindness
Hemophilia A
Hemophilia B
Duchenne Muscular Dystrophy
DRUG RESPONSES
Drug Responses: Anti-Tumour Medications
Mercaptopurine
Capecitabine
Fluorouracil
Gemcitabine
Methotrexate
Cisplatin
Carboplatin
Irinotecan
Flupyridine
Cyclophosphamide
Paclitaxel
Adriamycin
Oxaliplatin
Drug Responses: Mental Health Medications
Imipramine
Amitriptyline
Doxepin
Sertraline
Mirtazapine
Duloxetine
Venlafaxine
Parosine
Flufoxetine
Citalopran
Fluvoxamine
Perphenazine
Chlorpromazine
Haloperidol
Clozapine
Olanzapine
Risperidone
Aripiprazole
Quetiapine
Lamotrigine
Levetiracetam
Topiramate
Oxcarbazepine
Carbamazepine
Phenytoin
Phenobarbital
Diazepam
Clonazepam
Valproic Acid
Ethosuximide
Drug Responses: Endocrine and Metabolic Medications
Glibenclamide
Glezit
Gliquidone
Glipizide
Glimepiride
Repaglinide
Metformin
Rosiglitazone
Pioglitazone
Sitagliptin
Drug Responses: Cardiovascular Medications
Hydrochlorothiazide
Furosemide
Atenolol
Metoprolol
Bisoprol
Carvedilol
Verapamil
Nifedipine
Nitrendipine
Captopril
Enalapril
Benazepril
Losartan
Valsartan
Irbesartan
Simvastatin
Atorvastatin
Pravastatin
Fluvastatin
Rosuvastatin
Lovastatin
Pitavastatin
Fenofibrate
Aspirin
Clopidogrel
Warfarin
Nitroglycerin
Flecainide
Diltiazem
Amiodarone
Drug Responses: Gastrointestinal Medications
Omeprazole
Lansoprazole
Sulfasalazine
Drug Responses: Respiratory Medications
Dextromethorphan
Budesonide
Salbutamol
Salmeterol
Fluticasone Propionate
Drug Responses: Autoimmune Medications
Tacrolimus
Mycophenolic Acid
Cyclosporine
Drug Responses: Rheumatism, Gout And Bone Medications
Celecoxib
Allopurinol
Etanercept
Adalimumab
Febuxostat
Bisphosphonate
Drug Responses: Antipyretics and Anti-inflammatory Medications
Ibuprofen
Acetaminophen
Diclofenac
Infectious Disease Medications
Aminoglycoside Antibiotics
Peginterferon
Ribavirin
Rifampin
Isoniazid
Ethambutol
Drug Responses: Men's Health Medications
Drug Responses: Women's Health Medications
​
Other offerings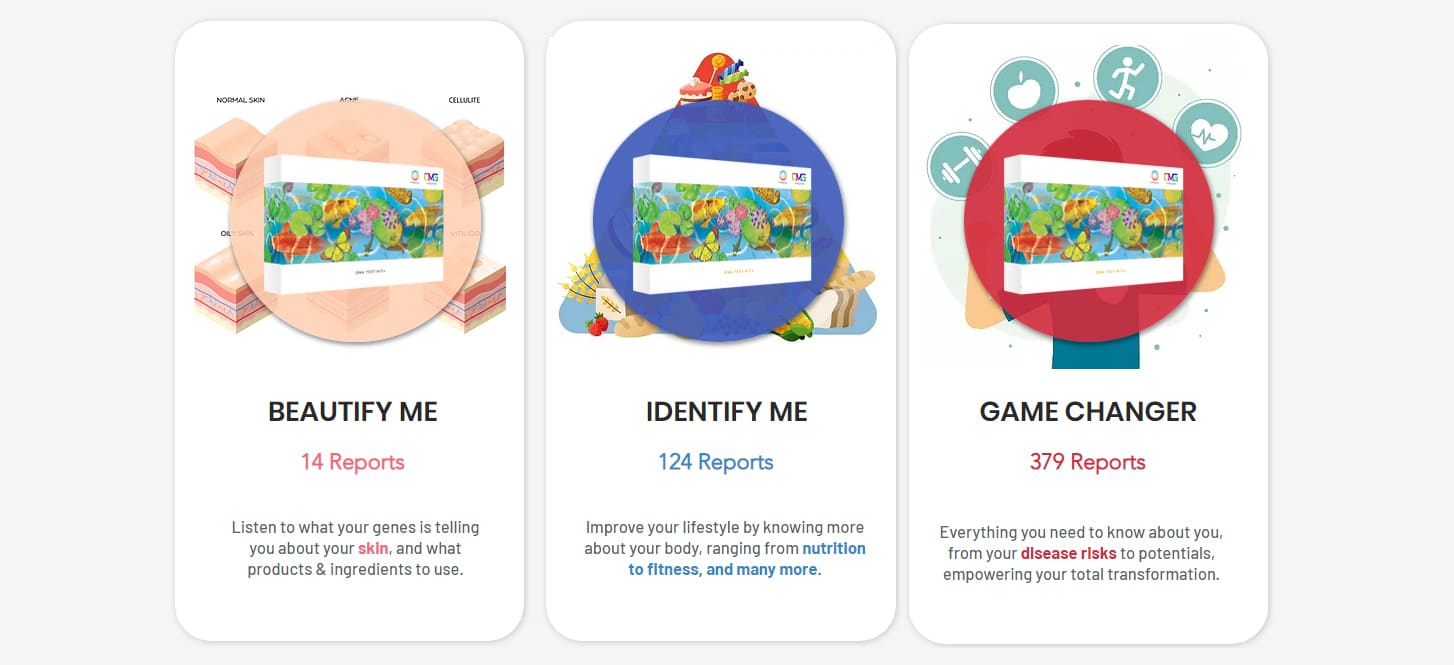 all opinions are from people using this vendor
all opinions are from people using this vendor
Other Popular Offerings You May Like